Ruby
[Id:shi_3k, NPO Catnip, Fukuoka ]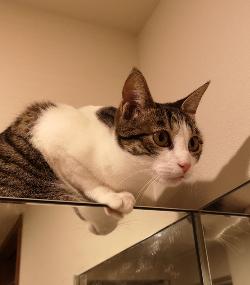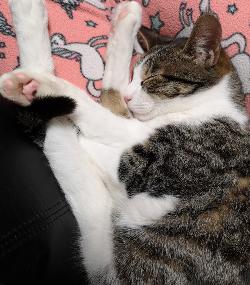 Would particularly suit
Family, teen children
Family of 3 generations
Adult(s) mostly at home
Data-Sheet
| | |
| --- | --- |
| Sex: | Female |
| Character: | Affectionate / love cuddles |
| Experience Level: | First time owner |
| Compatibility: | Probably fine with other cats |
| Came to CATNIP: | 2018/05/22 |
| On Website Since: | 2018/06/18 |
Age: approx. 9 months, 25 days as of today.
About ...
Fosterers comments

We called her Ruby because she has pink paws and a pink nose. She loves attention and human contact. She is always following people around and meowing to be picked up. If you don't pick her up she has no problems climbing up your pants. We are trying to teach her not to do that. She is also quite curious and likes to sit on your lap and watch carefully what you are doing.


Background:

Found abandoned as one of three tiny kittens - 3 weeks old possibly - on a beach in Shikoku (yes - that Shikoku - the one several hundred miles away) by a pair of Brit students on a camping tour of Japan. (Clearly mad - the snakes in Shikoku have a certain reputation). They naturally did what any sensible English person would do, which is put them in a little box and carry on camping... Several hundred miles and a week or so later, the box is looking a bit battered and the kittens can be heard plaintively demanding "are we there yet?", as infants are wont to do... Since their options were somewhat limited - the Brits were holidaymakers, not based in Japan - CATNIP took them in.


Status:

Tested clear for FelV and FIV.